Originally published by The Huffington Post
The 16-year-old boy sitting before Immigration Judge Charlotte Brown on Thursday asked to go home.
He originally pleaded his case in April 2017, asking for asylum after crossing into the U.S. alone from Guatemala. Now after more than a year in the United States, the boy told the judge he had spoken with his parents, who remain in Guatemala. His mother wanted him to go back, he said, and told him his father did too. But in a separate phone call, his father said not to return.
Are you still afraid of returning to your home country? Brown asked. The boy said he was. Well, if you still have a fear of returning to Guatemala, I'm not going to voluntarily return you, Brown replied.
He seemed relieved. I don't want to go back either, he said.
The Trump administration has waged a scorched-earth campaign over the last three months to repel unauthorized border crossers, especially unaccompanied minors and Central American families ― mobilizing the National Guard, instituting a zero tolerance policy for prosecuting immigration crimes and using that policy to separate thousands of kids from their parents.
But the scene that played out Thursday in immigration court in this Texas town near the border highlighted the futility of the White House's deterrence tactics once they make it into a civil courtroom.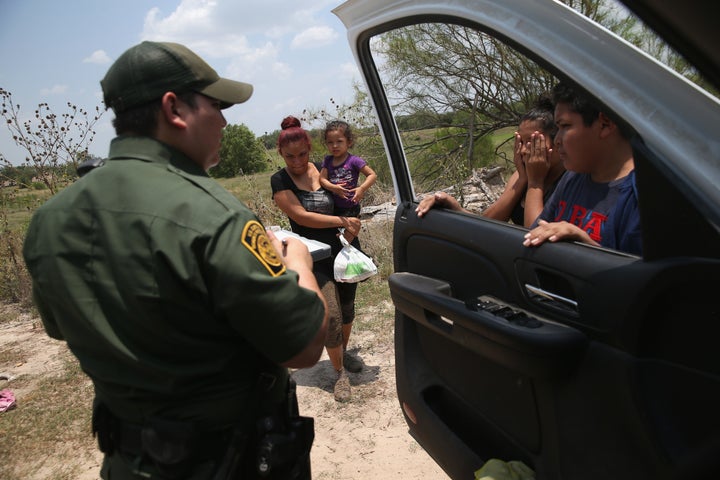 But Brown, who moved to immigration court from family court last year, did not appear to share Sessions' enthusiasm for hasty decisions.
Among the children who appeared before Brown on Thursday were seven unaccompanied minors, all Central American teenage boys, each clutching a manila folder bearing his name and alien number. For all of them, it was their first appearance in immigration court since Border Patrol apprehended them in March. (HuffPost is not naming them because they are minors and their immigration records are private.)
The court interpreter handed each one a sheet of paper with information for lawyers and said they would have to file a change of address form if they moved. Then Brown postponed all their cases until December to give the minors time to find a lawyer.
Brown often smiled and joked with the children and put them through an impromptu test to make sure they understood their rights.
Do you have a right to an attorney? she asked.
S, the seven boys responded in unison. Yes.
Do you have a right a right to cross-examine a government witness? she followed up.
Several of the boys looked down toward the floor, clearly uncertain. One quietly said yes. The judge launched into an explanation before repeating the question and hearing a more confident answer.
I love my babies, Brown told people in the courtroom ― which included several reporters and Caryl Stern, the president of UNICEF ― during a break in proceedings. I try to make them feel well and not frightened.
Stern said she felt the children were treated with dignity and respect, though she remained concerned that immigration courts don't provide children with public defenders.
I can't imagine that in any other court proceedings, a 9-year-old would go into a courtroom without counsel, she told HuffPost.
By trying to prioritize the cases of Central American children and families ― which are often long and complex and can involve multiple claims to relief from deportation under U.S. law ― the Trump administration is doubling down on a strategy that backfired on the Obama administration. Facing a sudden influx of unaccompanied minors and families at the border, the Obama administration moved those cases to the front of the docket, hoping that swift deportation orders would keep others from trying to cross.
I can't imagine that in any other court proceedings, a 9-year-old would go into a courtroom without counsel.
UNICEF President Caryl Stern
Instead, cases often remained tied up for months or years while older cases sat waiting. The immigration court backlog has more than doubled since 2013, to 714,000.
As the Obama administration found out the hard way, moving these cases to the front of the line in an effort to discourage people from coming has zero impact, said Judge Dana Leigh Marks of the National Association of Immigration Judges. Our first master is the due process clause of the Constitution. We're going to follow the law.
The Trump's chaotic family separation policy will add complexities to thousands of cases, according to Marks.
It absolutely complicates the situation, even to the point of perhaps rupturing a viable parent-child relationship, she said. It's always easier to deal with these cases as family units and let the parents speak for the children.
The few children making second appearances on Thursday, like the boy who feared returning to Guatemala, had cases that stretched back to last year.
One girl, a 9-year-old from Mexico wearing a pink bow atop her long hair, appeared alongside her stepfather for the second time since her apprehension as an unaccompanied minor last year.
Because of her age, Brown refused to hear the case until the girl had a lawyer. The girl's stepfather, Jesús Torres, said he found an attorney through a local church but needed more time to go to Illinois to work the corn harvest to raise the $5,000 he needed to pay for the lawyer's services.
Again, the judge continued the case ― this time until November.
Read more:https://www.huffingtonpost.com/entry/trump-immigration-court-migrant-children_us_5b356313e4b0f3c2219f5aa2
https://move.unitedwestay.org/wp-content/uploads/2018/06/5b3563c91a0000cd04ce2e53.jpeg
480
720
unitedwestay
http://move.unitedwestay.org/wp-content/uploads/2020/01/logo_UWS_trans.png
unitedwestay
2018-06-29 16:52:02
2018-06-29 16:52:02
Trump Tried To Slam The Door On Migrant Kids, But Courts Don't Work That Way