Originally published by The Huffington Post
Pieces of rebar impaled a migrant mother, causing a non-fatal injury after she fell while attempting to climb over the U.S.-Mexico border wall with her two young children on Friday.
U.S. Customs and Border Patrol officials reported in a Sunday statement that the woman, a 26-year-old Guatemalan native, tried to scale the border fence about a mile from the San Ysidro Port of Entry with her three-year-old and five-year-old.
The rebar, a steel reinforcing bar often found in concrete, pierced the young mother's side and buttocks. The segment that the woman climbed is part of a 14-mile stretch of the border wall that is currently under construction to replace decades-old fencing.
Border Patrol found the mother and her children around 8:30 p.m. on Friday and EMS immediately administered aid. Once the woman was stabilized, she and her children were driven to a local hospital for treatment. The injuries were not life-threatening.
Warning: The photo below is graphic.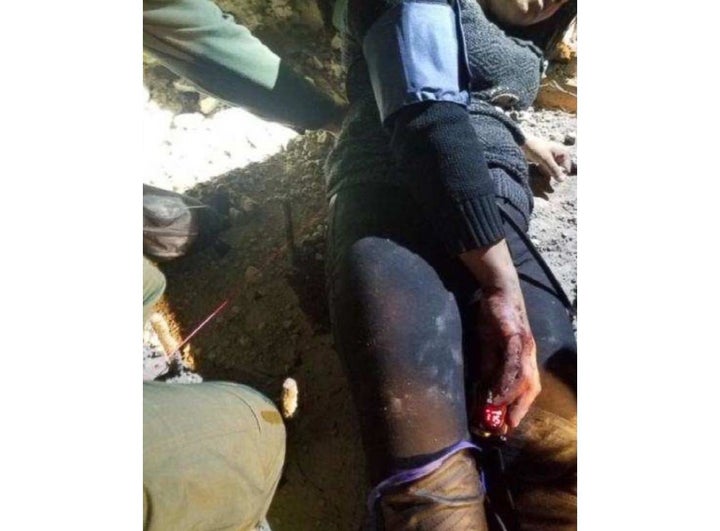 Entering our country illegally, particularly over our walls is not only dangerous, but also very foolish, San Diego Sector Chief Patrol Agent Rodney Scott said in a statement. This woman placed her own life and her children's lives in peril. She could have easily died if not for the quick response by our agents and EMS.
The mother told officials she was not part of the large migrant caravan camped out near Tijuana, Mexico. The woman and her two children were later released from the hospital into Border Patrol custody.
Currently, over 5,000 migrants are being held in limbo in Tijuana, as they wait to apply for asylum. The group of migrants led a peaceful march north to the border this past month to protest the U.S.′ slow process of asylum claims for Central American migrants. The mayor of Tijuana has called the situation a humanitarian crisis as the group, which includes men, women and children, camp out in tents.
https://move.unitedwestay.org/wp-content/uploads/2018/11/5bfd56b71d0000e501313636.jpeg
531
720
unitedwestay
http://move.unitedwestay.org/wp-content/uploads/2020/01/logo_UWS_trans.png
unitedwestay
2018-11-27 16:54:13
2018-11-27 16:56:13
Migrant Mother Impaled In Front Of Children While Attempting To Scale Border Fence