Originally published by The Huffington Post
Pope Francis had some harsh words on Monday for President Donald Trump and others who support ending the Deferred Action for Childhood Arrivals Program: If you're calling yourself pro-life, don't separate families through restrictive immigration laws.
A good pro-lifer understands that family is the cradle of life, and that its unity must be defended, Francis said during a wide-ranging interview aboard the papal plane, after a trip to Colombia.
The advice from the Roman Catholic Church's first Latin American pope came after journalists asked Francis to comment on Trump's decision last week to phase out the DACA program. The Obama-era program temporarily granted deportation protection to some immigrants who were illegally brought to the U.S. as children. Trump gave Congress six months to hash out how to handle the immigration status of these estimated 800,000 young people.
Francis said he hopes Trump rethinks the decision.
I believe that this law comes, I think, not from Congress but from the executive branch of the government, he said, according to a translation by Crux. If it is so, I have the hope that it's re-thought, because I heard the president of the United States introduce himself as a 'pro-life' man.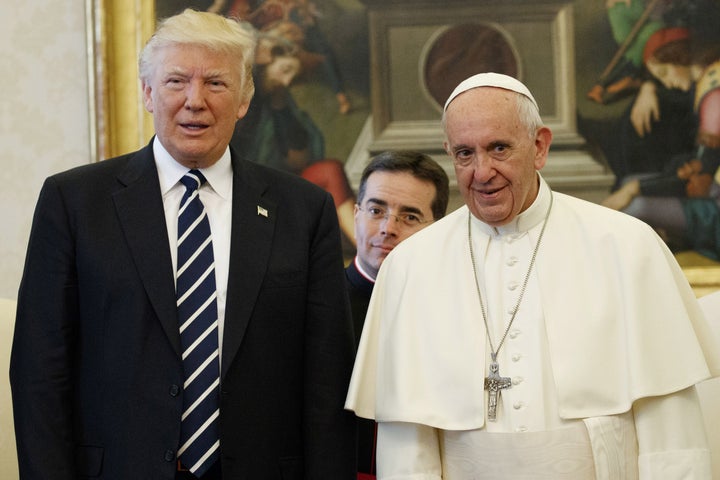 But Francis' remarks on Monday suggested that the pope sees the pro-life movement as much bigger than disagreements over abortion. For Francis, being pro-life includes supporting the family as a whole, and keeping children with their parents.
This position on DACA was underscored by America's Catholic bishops, who spoke out last week against Trump's decision to phase out the program.
It's certainly not Christian, and I would contend it's not American, Cardinal Timothy Dolan, archbishop of New York, said in an interview. 
This isn't the first time Francis and Trump have failed to see eye to eye on immigration. While Trump has sought to limit the number of refugees entering the U.S., the pope has spoken repeatedly about the need to protect the world's refugees and migrants. Last year, Francis criticized the president's campaign promise to build a wall along the U.S.-Mexico border.
A person who only thinks about building walls, wherever they may be, and not building bridges, is not Christian, he said.
https://move.unitedwestay.org/wp-content/uploads/2017/09/59b692ec1700002000f5244c.jpeg
480
720
unitedwestay
http://move.unitedwestay.org/wp-content/uploads/2020/01/logo_UWS_trans.png
unitedwestay
2017-09-11 16:59:17
2017-09-11 16:59:17
Pope Francis Says Threatening DACA Isn't Pro-Life