originally published by The Huffington Post
Former Department of Homeland Security Secretary Janet Napolitano sued the Trump administration on Friday to block it from taking work authorization and deportation protections away from hundreds of thousands of undocumented immigrants.
The lawsuit, which she filed in her capacity as president of the University of California system along with the regents, is in part personal to Napolitano ― she created the Deferred Action for Childhood Arrivals program, which Trump is now phasing out, in 2012. But she said on Friday that her bigger interest lies with the young people whose futures are now being put in doubt and doing all we can to support and protect those young people.
There are roughly 4,000 undocumented immigrants who attend schools in the University of California system, and Napolitano said on a call with reporters that a large proportion of them have DACA protections ― so-called Dreamers. The state's university system also employs undocumented teachers, healthcare workers and other staff.
The lawsuit alleges that Trump's decision to rescind the program violates the Administrative Procedure Act and constitutional due process, including that of students at University of California schools and the system itself.
The administration's approach in rescinding DACA was the opposite of reasoned decision-making and thus is unlawful, Napolitano said. It did not assess the costs of rescinding DACA to the hundreds of thousands of Dreamers or to the schools and communities in which they live, study and work.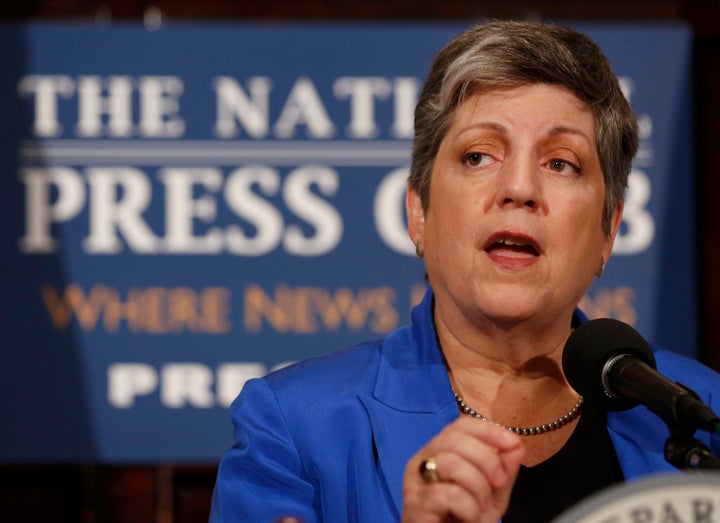 The lawsuit comes on the heels of a complaint by 15 states and the District of Columbia and a challenge by a former recipient of the program. All are aiming to prevent Trump from ending DACA protections.
Napolitano's lawsuit alleges that the Trump administration illegally neglected to follow rules outlined in the Administrative Procedure Act, which would have required more notice and a public comment period before making such a far-reaching change. Napolitano said that the situation was distinct from the creation of DACA, which did not go through a public comment period, because the program involved case-by-case determinations about prosecutorial discretion, while Trump's decision will hit recipients en masse.
″[Rescinding DACA] doesn't involve discretion at all, Napolitano said. It says that for this whole category of cases the administration will not exercise discretion and will not defer deportations. So it deals with this population and a whole category, not individuals.
She said that DACA is also distinct from the Deferred Action for Parents of Americans and Lawful Permanent Residents program, or DAPA, which was blocked in the courts because of a lawsuit that alleged, in part, that the Obama administration violated the Administrative Procedure Act in creating it.
Friday's lawsuit also argues that the Trump administration violated the due process rights of DACA recipients, which are protected by the Fifth Amendment, by executive fiat.
Those arguments also form part of the two other legal challenges to the termination of DACA filed in New York shortly after the Trump administration announced it would phase out the signature immigration reform of the Obama years.
One of those cases was originally filed in Brooklyn last year by DACA recipient Martn Jonathan Batalla Vidal. He had challenged the revocation of his three-year work authorization after the program's expansion was blocked by a federal judge in Texas, along with a farther-reaching program to shield undocumented parents of U.S. citizens from deportation. Lawyers in the Batalla Vidal case requested to amend their lawsuit to challenge the termination of DACA within hours of the Trump administration's announcement on Tuesday.
A coalition of 15 states and the District of Columbia, led by New York, filed a second lawsuit on Wednesday aimed at keeping DACA alive.
Both of the New York lawsuits allege that Trump's decision to end DACA was motivated by an intent to discriminate against Mexicans, citing the vitriolic statementsaimed at Mexican immigrants that he made repeatedly on the campaign trail. Napolitano's lawsuit does not include that claim.
Democratic California Attorney General Xavier Becerra plans to file a fourth lawsuit in federal court in his home state disputing the decision to end DACA.
The president has broad authority to undue the executive actions of previous administrations. But similar legal challenges largely blocked Trump's efforts to restrict virtually all visits from several Muslim-majority countries earlier this year.
Whether or not the lawsuits are ultimately successful, they open the possibility that one or more federal judges could issue an injunction that would halt the termination of DACA while the cases wind their way through the legal system.
Trump has said he wants to work with Congress on a legislative solution for Dreamers in the six month window before many begin to lose their work permits and protections. Napolitano said she plans to continue to press members of Congress to solve the bill through law, even as she fights to maintain DACA in court.
I believe that in this case the court should act, Napolitano said, or in the alternative Congress should act and settle this matter for once and for all.
Read  more:www.huffingtonpost.com/entry/napolitano-latest-to-sue-trump-over-daca_us_59b2eeaae4b0354e4411ec28?ncid=inblnkushpmg00000009
https://move.unitedwestay.org/wp-content/uploads/2017/09/59b2ef0f29000033004859e4-1.jpeg
522
720
unitedwestay
http://move.unitedwestay.org/wp-content/uploads/2020/01/logo_UWS_trans.png
unitedwestay
2017-09-11 16:43:24
2017-09-11 16:43:24
Obama Official Who Created DACA Sues Trump To Protect It