Originally published by The Huffington Post
A week after the first reports that President Donald Trump was set to end protections for young undocumented immigrants who came to the U.S. as children, the nearly 800,000 so-called Dreamers still don't know where they stand.
Dreamers worried Trump might terminate the Deferred Action for Childhood Arrivals program, which grants work permits and deportation reprieve, last Friday ― but he didn't. Trump didn't make announcements over the weekend, either. Monday, Tuesday and Wednesday went by, and there were more reports that a decision was imminent. On Thursday, news outlets reported that Trump was set to end the program, but there has still been no official announcement. (The White House said Thursday that it's still under review.)
For the people whose lives would be upended if Trump takes away DACA, the wait has been agonizing.
I want to know what's going to happen now so I can have one of my Plan Bs and start strategizing for that, Angelica Villalobos, a DACA recipient and organizer with the group Dream Act Oklahoma, said.
She and her friends and fellow advocates have been texting and emailing daily about what's going on, even though none of them really know. There are a number of possible outcomes, most of them frightening for Dreamers, such as the immediate termination of their work permits. As of Thursday afternoon, Trump was reportedly planning to end DACA and let recipients keep their two-year work permits until they expire, which would still result in all DACA-holders losing the ability to work legally and becoming at risk of deportation.
On Tuesday evening, Villalobos left Oklahoma on a red-eye so she could be in Washington for advocacy efforts when the decision comes down. She is in the unique position of having a personal assurance from a top Republican, House Speaker Paul Ryan (R-Wis.), that she should be allowed to stay in the U.S., having asked Ryan about her status during a CNN town hall in January.
Villalobos, a 32-year-old married mother of four, has a DACA permit that's set to expire in November, she said. Her husband has DACA as well, while her daughters are U.S.-born citizens. DACA has allowed Villalobos to get a better-paying job and accreditation to assist others with immigration filings. She is also able to do more volunteering, because she has a Social Security number and can undergo the background check required for some organizations. She has a driver's license ― which most states do not grant to undocumented immigrants ― and doesn't need to fear being pulled over while driving without one.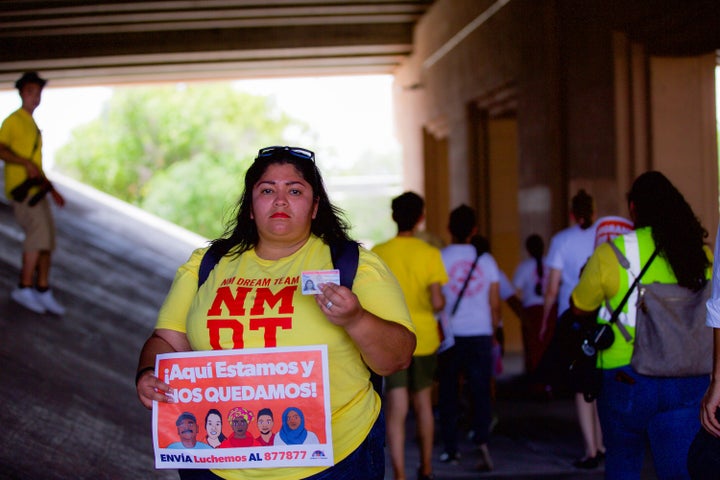 Read more:http://www.huffingtonpost.com/entry/daca-dreamers-trump_us_59a82679e4b010ca289ae3cc?ncid=inblnkushpmg00000009
https://move.unitedwestay.org/wp-content/uploads/2017/09/59a826f81700002000287a60.jpeg
480
720
unitedwestay
http://move.unitedwestay.org/wp-content/uploads/2020/01/logo_UWS_trans.png
unitedwestay
2017-09-01 16:57:34
2017-09-01 16:57:34
Nearly 800,000 Dreamers Wait For Trump To Decide Whether To Change Their Lives