Originally published by The Huffington post
Tuesday marks the fifth anniversary of Deferred Action for Childhood Arrivals, former President Barack Obama's farthest-reaching immigration reform. But instead of celebrating, many of the program's beneficiaries will be out in the streets protesting a looming legal challenge to destroy it.
Created in 2012, the DACA program allows so-called Dreamers ― undocumented immigrants who arrived in the country as children ― to work legally for a renewable two-year period, during which they are protected from deportation. Nearly 800,000 peoplehave been approved for the program since then.
But a coalition of states led by Texas Attorney General Ken Paxton is threatening legal action to kill the policy, if the Trump administration doesn't do it first.
It's unfortunate that we have to be on the defensive, when support for DACA is very strong, Karla Perez, an organizer with United We Dream who is also enrolled in DACA. DACA is that shining ray of light that we have right now. We have to take this opportunity to save it. It's good for everyone.
United We Dream and other organizations have scheduled protests in several cities to mark the anniversary.
Paxton and his allies hope to phase out the only major reform to immigration enforcement from the Obama era left standing. Since taking office, President Donald Trump moved quickly to gut the executive changes to deportation policy that Obama implemented after comprehensive immigration reform failed to pass Congress.
The widespread use of prosecutorial discretion that staved off deportation for tens of thousands of people with inconsequential criminal records has been replaced with a policy of indiscriminately arresting virtually any undocumented immigrant that Immigration and Customs Enforcement agents care to remove.
Customs and Border Protection has barred asylum applicants from entering the country by land through the U.S.-Mexico border, in violation of U.S. and international law, according to a lawsuit filed against the Trump administration last month.
Trump has also directed the Border Patrol and ICE to hire a combined 15,000 agents, though bureaucratic obstacles and a lack of funding from Congress will likely slow the process. And Attorney General Jeff Sessions has asked U.S. attorneys in all 94 federal districts to prosecute the crime of illegal reentry more aggressively.
But Trump has left DACA alone, angering some conservatives who viewed the program as an unconstitutional way to skirt congressional authority.
Paxton is responsible for torpedoing a more expansive version of deferred action that Obama tried to implement in 2014. The Deferred Action for Parents of Americans program, or DAPA, would have exempted as many as an estimated 3.7 million undocumented immigrants with U.S. citizen or legal resident children from deportation and allowed them to work legally. At the same time, Obama sought to expand DACA to a larger group of undocumented immigrants who came to the U.S. as children.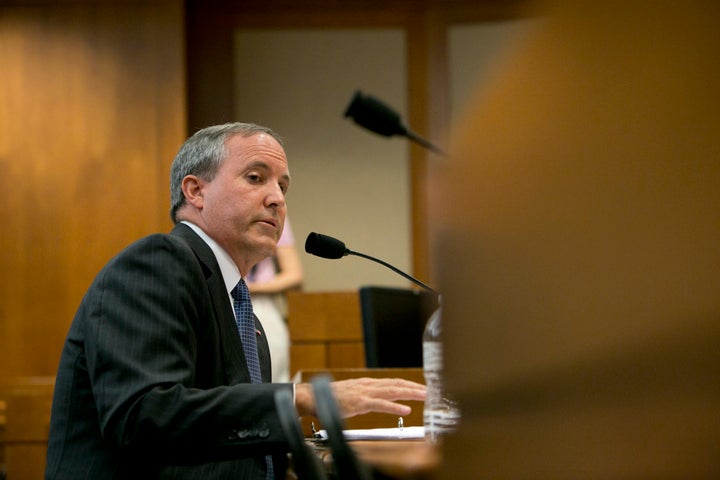 Paxton hopes to tack on his DACA challenge to the same lawsuit that stymied DAPA. The case is still pending before Hanen, despite the fact that the Trump administration formally nixed DAPA in June.
That strategy of amending the complaint in the DAPA case could favor Texas. The legal logic behind DACA ― that the executive branch can temporarily offer work authorization and deportation exemption for certain classes of people ― is the same one that guided DAPA.
And Hanen has a reputation as a conservative judge. In a 2013 ruling, he accused the Obama administration of complicity in human trafficking for failing to punish Central American parents who send their unaccompanied children to the United States. And his ruling to keep DAPA from going into effect indicates sympathy for the criticisms brought by the state of Texas.
It's not yet clear whether Paxton will draw the judge he's hoping for. The Mexican American Legal Defense and Educational Fund (MALDEF) filed a motion last month to dismiss the case, since the DAPA program no longer exists. If the case is dismissed, that raises the possibility that the legal challenge to DACA will fall before another, perhaps less conservative judge.
A spokeswoman for the Texas Attorney General's office declined to comment about where a lawsuit might be filed if the DAPA case is closed.
Other factors may augur well for DACA supporters.
For one, Texas won't be able to ask the courts to stop DACA from going into effect, because it's already been in place for five years.
Texas may also face hurdles showing that the state has standing to sue, according to MALDEF's Thomas Saenz.
The issue of standing is going to have to be resolved, Saenz told HuffPost. And I think that Texas is going to have a really hard time showing they have an injury, at least an injury that's not completely overwhelmed by the benefits of DACA to the state…. And they're going to be asked, 'Well, why did you wait five years?'
Paxton also has less political support for his challenge to DACA than he did for fighting the more expansive DAPA program. Paxton's coalition to challenge DAPA included 26 states, whereas the group that signed onto his threat of legal action over DACA includes just 10.
While Obama's use of executive authority to create the program was unpopular with Republicans lawmakers, many conservatives are wary of targeting young people who generally had no choice over how they immigrated to the country. And it was Sen. Marco Rubio (R-Fla.) who originally floated the idea of authorizing undocumented youths to live and work in the United States legally, while withholding the possibility of U.S. citizenship ― though he had imagined creating such a program through legislation.
Supporters of the program also point to clear economic benefits. Some 95 percent of DACA recipients are either employed or enrolled in school, according to a study by the liberal-leaning Center of American Progress published last year. Work authorization helped raise the average hourly wage of DACA recipients by 40 percent to nearly $14, spurring a rise in major purchases like cars and homes.
If DACA does face a legal challenge, the Trump administration could decline to defend it. Sessions has called the program unconstitutional for years, and the Department of Justice has not yet said whether it would defend the federal government's own policy in court. Trump said in July that the decision is ultimately up to him but did not indicate which way he would decide.
Congress could resolve the matter entirely if lawmakers passed legislation to give Dreamers some type of legal status, even through a temporary program like DACA. Last month, a bipartisan group of four senators reintroduced the Dream Act, a bill to give undocumented immigrants who came to the U.S. as children a path to citizenship, but the White House immediately shot it down. There are also bipartisan bills in the House and Senate that would provide temporary protections, but it's unclear whether those could pass or if they would be signed into law.
The political stalemate leaves DACA recipients like Perez unsure about the program's future. Still, she remains hopeful that the same political movement led by undocumented youth that spurred the creation of the program five years ago can play a key role in keeping it alive.
I certainly feel worried and anxious, Perez told HuffPost. At the same time, we have a sense of conviction that we have to do everything we can to insist that DACA remain in place… Families and immigrant youth won DACA by demanding it. Part of that victory means defending it.
http://move.unitedwestay.org/wp-content/uploads/2020/01/logo_UWS_trans.png
0
0
unitedwestay
http://move.unitedwestay.org/wp-content/uploads/2020/01/logo_UWS_trans.png
unitedwestay
2017-08-15 21:59:34
2017-08-15 21:59:34
DACA Marks Fifth Anniversary Amid Looming Legal Threat